Child Support Attorneys Jacksonville
Establishment • Enforcement • Modification
Committed to protecting your rights and
the rights of your children
As parents, we understand at Treece & Treece that one of your primary concerns is providing financial stability for your minor children during the divorce and continuing until they reach majority or certain terminating circumstances. As Florida Child Support Attorneys, having represented thousands of parents, we are committed to protecting your rights and the rights of your children.
Call us for a consultation (904) 737-1771 at the Family Law Firm of Treece & Treece to guide you in the resolution of your Child Support Issues, whether it be the Establishment, the Enforcement, or the Modification of Child Support.
Who pays Child Support?
Both parents have a legal obligation to support their minor children.
When does Child Support start?
Child Support starts when the parents separate (with limitations), when one parent files for divorce/support, or when a court action or administrative action is filed through the state.
How is Child Support calculated?
The Florida Statutes provide a formula to mathematically and uniformly determine the amount of child support required to be paid by the parents.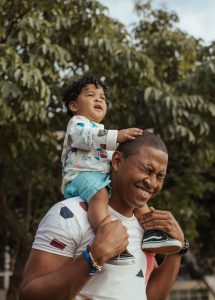 What information is utilized by the Courts to make the Child Support calculation?
To make the Child Support calculation, the following information is utilized:
Each party's income with specific deductions to reach the net income;
The medical insurance costs and who pays;
The non-reimbursed medical expenses;
The day-care costs;
The amount of time each parent houses the child; and
The number of children
When does Child Support end?
Child Support ends when the child reaches majority (18), marries, dies, or becomes self-supporting. Although, Child support can last longer if the child remains dependent due to disability.
Frequently Asked Questions Regarding Child Support
Please carefully review the following questions prior to our first consult to help you define the issues relating to your specific family matter.
How do we provide for our children when our households are split?
How do the Courts determine which parent gets the use of the marital home?
How will we provide health care and insurance benefits for our children when we are two households? Who is responsible for the deductibles with the insurance and the non-covered medical expenses?
How will we determine and provide child care for our children, including day-care during the school year and the summer schedules?
How will we continue to provide for our children's needs, such as private school, academic tutoring, extra-curricular activities, artistic and other interest specific to our child, sports, and recreation?
How do we continue to provide for our special needs child?
What does the court consider to enhance the amount of child support or decrease the amount of child support?
What is retro-active child support? The paying parent has not paid the designated amount of child support, how is that money recovered by the payee parent?
How is Child Support enforced if a parent fails to pay as ordered? Can it be payroll deducted?
Contact clause
If you are seeking an informed analysis of your family situation, advice regarding your legal rights, and guidance resolving these issues, please contact Treece & Treece at (904) 737-1771 or email us at treecelaw@bellsouth.net to schedule a consultation.
We serve clients in Jacksonville, Duval County, Jacksonville Beach, Atlantic Beach, Neptune Beach, Ponte Vedra Beach, St. Augustine, St. John's County, Fernandina, Yulee, Amelia Island, Nassau County; MacClenny, Glen St. Mary, Sanderson, Taylor, Baker County, Green Cove Springs, Kingsley Lake, Clay County, Starke, and Bradford County.